Metaverse Federation and Metaverse Federation University and the Meta Time together announced that "Meta One" will officially launch for mobile App on May 20th, 2022!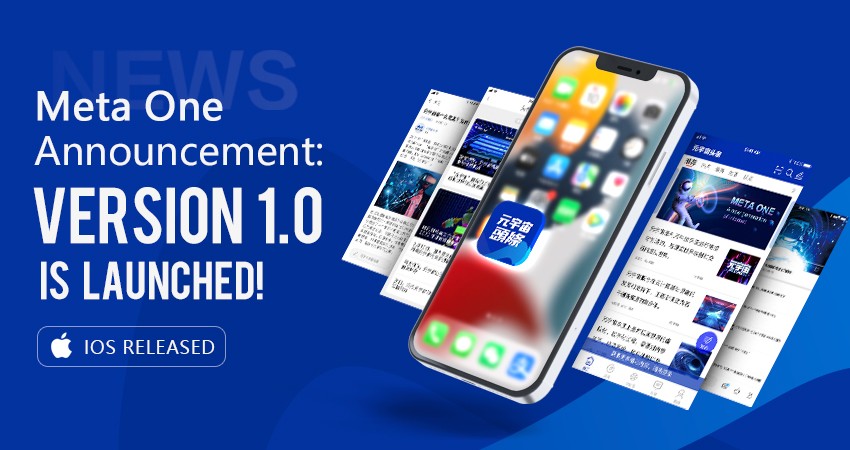 The Metaverse is a transformative event in the development of the Internet. This development coincides with the direction of human technological evolution on the application platform. Under this general trend, the Metaverse is gradually affecting the social ecology, which in turn is giving birth to a new economic model. This new and innovative process promotes the integration and upgrading of media.
At present, The Metaverse has suddenly become a hot topic, but all the information sources are scattered and fragmented. People look forward to the emergence of the Metaverse, "Meta One" is a news release mobile app that fully surrounds and reports the Metaverse, thus making it the world's first news fusion media platform of Metaverse.
"Meta One" will launch its Chinese version first to meet the growing desire urgent needs of the Chinese people. Then it will launch the English version. "Meta One" will disseminate the latest information, hot topics, in-depth information of the Metaverse, including original videos and other contents to serve a wider range of people, such as enterprises and relevant government agencies at all levels.
The app focuses on creating sections such as "Headlines" and "60 Seconds News". The latter is a collection of selected short, high-pitched topics. In addition, there are also other sections such as experimental projects, popular Q&A, and forums. The app sincerely invite the social media influencers in the field of Metaverse to join in, they can interact and communicate online with their fan base!
"Meta One" sets its editorial offices in Los Angeles and Bangkok, and the technical teams in both U.S. and China. After "Meta One" is launched, information sharing can be achieved in 175 countries with more than one billion apple users in the world! And the Android system is next. Hope "Meta One" will help users to have a better understanding of Metaverse in the future!
Company:Meta One
Contact Person:Meta Time
Email:info@metatopnews.org
Website:http://www.metatopnews.org
City:Yorba Linda
免责声明:本文转载自其它媒体,转载目的在于传递更多信息,并不代表本网赞同其观点和对其真实性负责,亦不负任何法律责任。 本站所有资源全部收集于互联网,分享目的仅供大家学习与参考,如有版权或知识产权侵犯等,请给我们留言。